Travel Guide for AC Milan and the San Siro
Below you will find your perfect guide for going to Italy to watch AC Milan at the San Siro!
Headlines from the travel guide:
AC Milan Honours
National title/ Scudetto: 18 (last 2011)
Coppa Italia: 5 (last 2003)
European Cup/Champions League: 7 (last 2007)
Cup Winners' Cup: 2 (last 1973)
FIFA Club World Cup: 1 (2007)
---
San Siro
Capacity: 41,507
Pitch: 105 x 68 m
Opening match: 19 September 1926 (Inter – Milan 6-3)
MILAN ADDRESS
Stadio di San Siro
Via Piccolomini 5
20151 Milano San Siro Stadium History
Stadio Giuseppe Meazza name was originally Stadiometer di San Siro, so named after the district in which the venue is located.
Originally San Siro was Milan's property and home. The city of Milan bought the venue in 1939 and after World War II, both Milan and Inter played here.
The attendance record of 125,000 spectators was set on April 25, 1952 when Italy defeated Brazil 3-0.
In honour of one of Italy's greatest ever players the arena was named the Giuseppe Meazza Stadium in 1980. During his illustrious career that spanned 20 years, Giuseppe Meazza played for both Inter and Milan. During his debut season in Serie A, he scored 31 goals – a record that no newcomer has managed to surpass. Giuseppe Meazza also won two World Cups with Italy.
The stadium was last upgraded ahead of the 1990 World Cup. The tournament's opening match was played here in which the reigning world champions Argentina sensationally lost out to the odd goal against Cameroon.
On their way to World Cup glory West Germany played their first five games at the Giuseppe Meazza stadium. The only team that managed to pinch a point from them was Colombia.
The stadium has hosted the European Cup/ Champions League Final four times, in 1965, 1970, 2001 and 2016. At the first of these there was a home win: Inter defeated Benfica 1-0.
The most recent final – a Madrid derby between Real and Atlético – was decided on penalties after the match ended 1-1. Ronaldo hit the final nail in Atlético's coffin as Real won the shoot-out 5-3.
SAN SIRO DIRECTIONS
Subway:
Line 5 (red) to San Siro Stadio
Bus:
Bus 49 from Piazza Tirana towards Piazzale Lotto, stop Piazza Axum
Tram:
Tram 16 from Piazza Fontana
MILAN BARS
Try out an 'aperitif' at one of Milan's many bars. You can enjoy a drink and delicious snacks, served between 19.00 and 21.00.
Or maybe a pizza would taste good? Near to the Piazza Firenze is Barbagia (Via Ruggera di Lauria, 18). And for those who want to sample a little more quality Italian cuisine are urged to try Collina Pistoiese (Via Amedei 1).
For those who yearn for the English pub, salvation is here: Il Football English Pub (Via Valpetrossa 5) – is good for both football, whiskey and beer.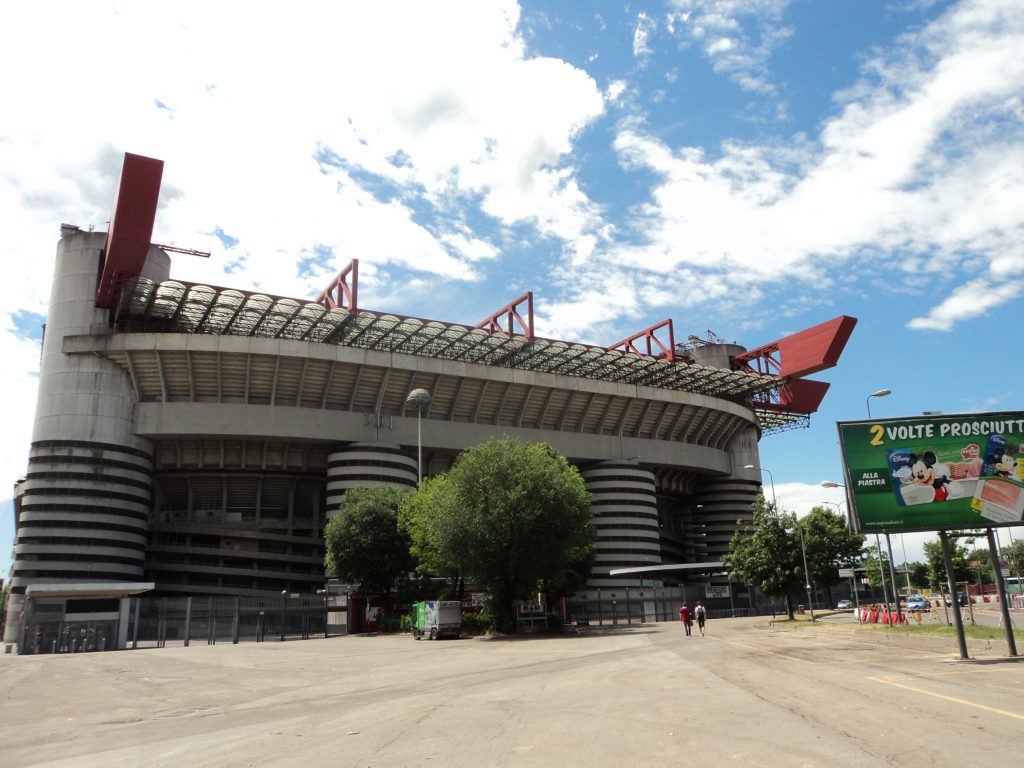 SAN SIRO STADIUM TOUR
Walk in the footsteps of legends on the San Siro tour. You pass through the changing rooms of both host clubs, the tunnel entrances to the pitch, and enjoy a view of the stadium from the stands.
You also visit the San Siro Museum, which tells the great story of Inter and AC through memorabilia, trophies, shirts and more . The entrance is at Gate 8.
Daily: 9.30- 18.00
Opening hours can vary on matchdays
For info and booking: +39 02 404 2432 and www.sansiro.net
Entry (including. museum):
€17,00 adults
€12,00 children and Senior Citizens
When the stadium tour is not available due to events, it is still possible to visit the museum.
Entry:
€7,00 adults
€5,00 children and Senior Citizens
MILAN STORES OPENING TIMES
Milan Megastore
Galleria San Carlo
C.so Vittorio Emanuele ii
(Metro: san Babila)
Milan Store Piazza san Fedele
Piazza san Fedele, 2
Milan Store Piazza XXiV Maggio
Corso san Gottardo, 2
All open daily: 10.00 – 20.00
San Siro Store
(Entrance 14, on match days entrance 15)
The shop area is shared between Milan and Inter, but on matchdays the home team takes over.
Open daily: 09.45 – 18.30
Opening hours can vary on matchdays.
MILAN TRAINING GROUND
Milanello is near Varese, 50 km from Milan and 300 metres above sea level. This green oasis of 160,000 square metres was opened in 1963.
Milanello is often used by the Italian national team when they gather for major international championships.
In addition to six soccer fields, a state-of-art gym and running path loops in the forest, there is also the so-called 'Cage'. This is a small outdoor area surrounded by a 2.3 m high wall and on top of this, a 2.5 m high fence. In this cage you can play ball around the clock – no chance to watch this …
MILAN CLUB HISTORY
Milan Football and Cricket Club was formed on December 16, 1899, news reported two days later in Gazzetta dello Sport.
The club won their first national title in the 1900/01 season and this success was repeated five years later when Milan won the title two years running.
Some of the leading names from Milan's first few decades show that there was a strong foreign influence: Alfred Edwards (the club's first chairman), Herbert Kilpin (team captain and playing coach) and Louis Van Hege (top scorer in the 1910s). Messrs Edwards and Kilpin came from Nottingham and van Hege – with a goal average of 1.1 goals per match – was born in Brussels.
The interwar period was a lean time in the club's history and the change of name to Milan Associazzione Sportiva led to no immediate success. It was not until 1949 when Gunnar Nordahl arrived that the turnaround came. Later that year, Gunnar Gren and Nils Liedholm joined. The legendary triangle Gre-No-Li created Italian football history in the following years.
Il Cannoniere – legendary Milan goalscorer
Gunnar Nordahl – il Cannoniere – was the top scorer for five seasons and remains the foreign player who has scored the most goals in a season.
Il Cannonieres' prolific scoring paved the way for two league victories in 1950/51 and 1954/55.
The Swedish football legends were followed by Latin Americans: Pepe Schiaffino of Uruguay and Jose Altafini from Brazil. This injection led to two more league titles in 1956/57 and 1958/59.
The sixties began with the record signing of midfielder Gianni Rivera and it turned out to be money well spent. With Rivera as the team engine and conductor Milan won their first European Cup in 1963 when they defeated Benfica 2-1 at Wembley after two goals by Altafini and one for Benfica from Eusebio. Team captain Cesare Maldini thus began the family tradition of lifting international trophies.
Five years later it was a first triumph in the Cup Winners Cup. And in the European Cup final in 1969 they defeated Ajax (with a young Johan Cruyff in the team) 4-1. A large portion of the credit fell to goalkeeper Cudicini Fabio, nicknamed the 'black spindle'.
In 1969 Gianni Rivera won the Ballon d'Or: "In a barren soccer world Rivera is the only one who has a sense of poetry."
Dutch trio – van Basten, Gullit and Rijkaard
The seventies were barren years for the men in red and black. Two things are however worth mentioning. In 1979 Milan won their tenth Scudetto and the team had the honour of carrying a star on their club shirts. And when the young Franco Baresi made his debut on April 23, 1978 this was a first indication of great times to come.
Two other football legends, Paolo Maldini and Alessandro Costacurta, started their careers in the eighties. And towards the end of this decade Marco van Basten, Ruud Gullit and Frank Rijkaard arrived at Milan.
With coaches Arrigo Sacchi and subsequently Fabio Capello, Milan went on an incredible run of success: the Scudetto in 1987/88 and then three consecutive years, 1992-1994, the European Cup in 1989 and 1990 and the Champions League in 1994.
In the European finals of 1989 (Steaua Bucharest 4-0) and 1990 (Benfica 1-0) the three Dutch musketeers scored all five goals.
But four years later Milan survived perfectly well without the Dutch when they defeated hot favourites Barcelona, a team including Koeman, Stoichkov and Romario, 4-0.
Milan Champions League victories
In 2003 Milan won the Champions League final against Juventus. After a goalless draw after extra time Andrej Shevchenko decided the match by scoring the fifth penalty for Milan.
The same player also decided the final two years later – but this time by missing the decisive penalty. In one of the most memorable of all Champions League finals Liverpool were victorious after Milan had led 3-0 at half time.
Revenge on Liverpool came in 2007 when the notorious Filippo Inzaghi scored both goals in a final that Milan won 2-1.
In 2011, when the club won the league, it was a long awaited moment for all red-black supporters. Seven long years had passed since Milan last won the Scudetto. and with his 14 goals Zlatan Ibrahimovic reaffirmed the club's historical ties to Sweden.
The past few years have been difficult for the club and its supporters. The manager Vincenzo Montella was known as "the small plane" during his playing time in Rome. Can he, with the help of Chinese money, take AC Milan to new heights?
AC MILAN FACTS
The British influence lives on in the club name – the Italian name of the city as we know, Milan and nothing else …
Gunnar Nordahl played 268 games for Milan and managed to scored 221 goals.
When Milan won the derby against Inter 5-3 on March 27, 1960, José Altafini was on target four times.
From May 26, 1991 until March 21, 1993 Milan were unbeaten in 58 consecutive matches. Funnily enough, this run began and ended against Parma (0-0 and 0-1).
The Rossoneri (the red and black) have only managed to win one of three finals in the European Cup / Champions League when the team played in the home kit. Wearing the all-white away shirt things have gone much better: six victories in eight finals.
Milan have won the UEFA Super Cup five times, the Intercontinental Cup three times and also the FIFA Club World Cup in 2007. Along with the successes in the European Cup / Champions League and Cup Winners Cup, this makes a total of 18 official international titles – more than any other club in the world.
The player who has represented Rossoneri the most times is Paolo Maldini. During his 902 games, he was able to celebrate 13 of the club's 18 international titles and win the Scudetto seven times.
Book

your dream trip to San Siro with Nickes.Com!