Travel Guide for Bayern Munich and the Allianz Arena
Below you will find your perfect guide for going to Germany to watch Bayern Munich at the Allianz Arena!
Headlines from the travel guide: Bayern Munich Honours
National title/ Bundesliga: 28 (last 2018)
DFB-Pokal: 18 (last 2016)
Ligapokal: 6 (last 2007)
European Cup/Champions League: 5 (last 2013)
UEFA Cup/Europa League: 1 (1996)
Cup Winners' Cup: 1 (1967)
---
Allianz Arena
Capacity: 75,000
Pitch: 105 x 68 m
Opening match: 30 May 2005 ( TSV 1860 München – 1. FC Nürnberg 3-2)
ALLIANZ ARENA ADDRESS
Allianz Arena
Werner-Heisenberg-Allee 25
80939 Munich
Allianz Arena History
The construction of the Allianz Arena was preceded by a referendum in Autumn 2001, when 65.8% voted in favour of the new arena.
The foundation stone was laid on the site on October 21, 2002 and after nearly three years the building work was completed. By then, 120,000 cubic metres of concrete and 22,000 tonnes of steel had been used. Two opening games were played and on May 31, 2005 FC Bayern Munich played Germany. The match ended in a 4-2 home win.
The architects of the Allianz Arena arena were Jacques Herzog and Pierre de Meuron. A poll confirmed it as Germany's most popular sports arena.
The facade is spectacular to say the least: covered with 2,760 diamond-shaped air-filled foil cushions which are illuminated for night matches. The colour reveals who is playing: white for the national team, red for Bayern Munich, blue for 1860 Munich.
For matches in the Bundesliga there are 13,500 terrace tickets at affordable prices. The stadium is lit by 232 lights 45 metres above the pitch.
During the 2006 World Cup six matches were played here, including the opening game and France won their semi-final against Portugal there (1-0). Allianz Arena is owned by FC Bayern Munich. TSV 1860 Munich has a lease that runs until 2025. ALLIANZ ARENA DIRECTIONS
Subway:
Line U6 (towards Garching) to Fröttmaning. From here it's a walk of about 1,000m.
Check out the schedules here: www.mvv-muenchen.de
ALLIANZ ARENA BARS
Inside the Allianz Arena, Arena Bistro is open daily 10.00 – 17.00 (not matchdays). There are also two large supporter bars with big screen TV and all sorts of Bavarian specialties – not just beer …
In the Harlaching district you can find Antica Trattoria (Braunstraße 6), which serves delicious dishes in stylish surroundings.
Beer and food can also be enjoyed under the pleasant shade of the trees of Gutshof Mers-Schwaige (Menterschwaigstraße 4).
ALLIANZ ARENA TOUR
Daily: 11:00, 13:00, 15:00 och 16:30.
Tour in English: 13:00.
No tours on event days.
Tickets bought from Erlebniswelt museum foyer on Level 3.
ADMISSION (inc Erlebniswelt):
€19.00 – adults
€17.00 – students and Senior Citizens
€11.00 – children aged 6-13
For information and booking: +49 (0) 89 699 31 222 alt. www.fcbayern.com/erlebniswelt/en/tickets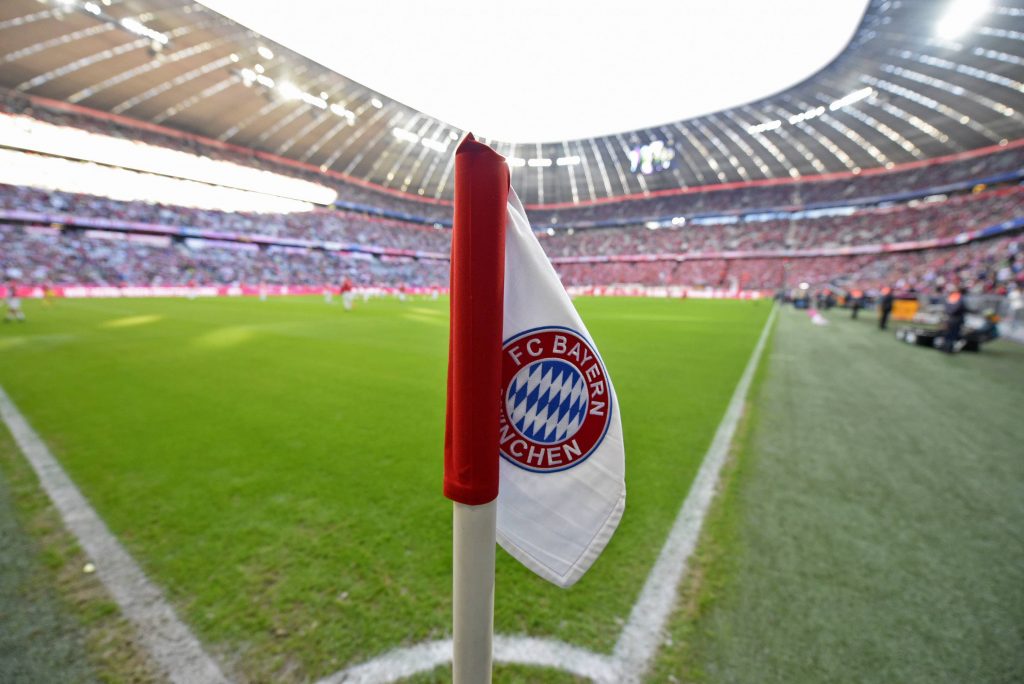 BAYERN MUNICH MUSEUM
When FC Bayern Erlebniswelt opened in 2012, this was, according to Karl-Heinz Rummenigge "the world's best and most innovative exhibition of a football club's history."
Open daily 10.00 to 18.00. On match days open to visitors with a match ticket only.
€12.00 – adults
€10.00 – students and pensioners
€ 6.00 – children 6 – 13 years
BAYERN MUNICH STORES OPENING TIMES
FC Bayern Megastore Allianz Arena
Ebene 3
Werner-Heisenberg-Allee 25
80939 Munich
Monday – Saturday: 10:00 – 18:30
FC Bayern Fan-Shop Säbener Straße
Säbener Straße 51-57
81547 Munich
Monday – Friday: 9:00 – 18:00
For Saturday matchdays: 9:00 – 14:00
FC Bayern Fan-Shop Neuhauser Straße
Neuhauser Straße 2
80331 Munich
Monday – Saturday: 9:00 – 20:00
FC Bayern Fan-Shop Stachus Passagen
1. Untergeschoss, Karlsplatz (Stachus)
80335 München
Monday – Saturday: 9:30 – 20:00
FC Bayern Fan-Shop im Flughafen
Zentralbereich, Ebene 03
85326 Munich Airport
Daily: 7:30 – 21:00
FC Bayern Fan-Shop im Hauptbahnhof
Im Zwischengeschoss des
Münchener Hauptbahnhofs
80335 Munich
Monday – Saturday: 9:00 – 19:00
FC Bayern Fan-Shop am Hofbräuhaus
Orlandostraße 1
80331 Munich
Monday – Saturday: 10:00 – 19:00
BAYERN MUNICH TRAINING GROUND
Both the first team and youngsters train on Säbener Strasse. They share the five grass pitches, two of them with heating, and two artificial turf fields. There is also a sports hall and a court for beach volleyball.
BAYERN MUNICH CLUB HISTORY
TEleven angry football fans gathered at Restaurant Gisela in Munich on February 27, 1900. Earlier that day their club, MTV 1879, had rejected the proposal that the club's football section would apply for membership of the DFB, the German football association.
This was the last straw and the 11 supporters formed FC Bayern Munich. The rebel leader was a Berliner and his name was Franz John – a first name which was then written into the history of the club …
The first local derby against 1860 Munich (actually founded in 1899) was held on September 21, 1902 – and Bayern showed straight away their determination for success by winning 3-0.
The year before, Bayern moved into their first home at the Clemens-Strasse in Schwabing, a district in northern Munich. The club was often called Swabian Bayern and the players were known to wear straw hats. Match kits were then white shirts and black shorts – even though the bylaws stated that the club's colours were white and blue …
In 1906 Bayern merged with the Club MSC Club and the club colours changed to red and white. And the following year it was time to move to MSC's home in Leopoldstrasse.
Bayern Munich win first title
The first title was clinched in the 1910/11 season when the club won the newly established Bavarian regional league, Kreisliga.
After World War I the club won several regional championships and were also 1926 South German champions. This feat was repeated two years later. By this time, Bayern moved into Grünwalder stadium owned by 1860 Munich and therefore was also often called Sechzger stadium.
Bayern's first national championship was captured in 1932 when they defeated Eintracht Frankfurt 2-0 under club trainer Hungarian Richard Dombi.
But the Nazis' shadows now darkened over football. Richard Dombi and Bayern president Kurt Landauer, both Jews, were forced into exile. Bayern were labeled as the Jewish Club. Ironically the last documented football match in Hitler-led Germany saw a victory for Bayern: on April 23, 1945 Bayern defeated 1860 Munich 3-2.
It took until 1957 before the Reds won their second national title. They defeated Fortuna Düsseldorf in the cup final at the Rosenau Stadium in Augsburg by the only goal.
When the Bundesliga was founded in 1963 Bayern were left out. 1860 Munich were given a ticket to the top table, a decision that naturally caused extra pain. But revenge was sweet, and a brilliant era was just around the corner.
Bayern Munich arrive in the Bundesliga
Two years later Bayern won the last match in the qualifiers to the Bundesliga with a 8-0 victory against Borussia Berlin Tennis Club. The team was welcomed back by 6,000 fans at Munich Airport. Among those honoured were Franz Beckenbauer, Gerd Muller and Sepp Maier.
The first season in the Bundesliga saw a third place and the club also won the cup. The following year, Bayern won the European Cup Winners Cup and thus their first international title. Rangers were defeated in Nuremberg 1-0 after extra time with a goal from Franz Roth, 'Bull', better known for his physical style of play than his skill.
In 1969, Bayern won the Bundesliga as well as cup, becoming the first club to achieve this feat. There was a remarkable feat as throughout the season Bayern only used 13 players …
Bayern's first home game at the new Olympic Stadium in 1972 was also the first match broadcast on TV in Bundesliga history. The home team secured the title when Schalke 04 were dismissed 5-1 and also set a new Bundesliga record for both points and goals.
Now Bayern lined up win after win. Two straight Bundesliga titles were followed by an appearance in the European Cup final in 1974. Opponents Atletico Madrid took the lead. But when the clock ticked down to the final minutes Hans-Georg 'Katsche' Schwarzenbeck surprised everyone – including himself – with a long shot from almost 30 yards that flew in. Gerd Muller is said to have shouted: "Do not shoot! Are you mad?"
The teams had to stay in Brussels and met two days later in a replay. Now it was the 'normal' target shooters who made sure that Bayern won 4-0 – Gerd Müller and Uli Hoeness scored two goals each.
The following year Bayern defended the title in Paris. Leeds were defeated 2-0 after late goals from Root and Müller meaning two Swedish players got to lift the trophy: Conny Torstensson (for the second time) and Bjorn Andersson.
And it was third time lucky in Glasgow on May 12, 1976. Saint-Etienne were beaten by the odd goal and once again it was 'Mr Europa' Franz Roth who scored. Talk about being the best when it comes to the big games …
Uli Hoeness was forced to quit as a player due to injury in 1979. Only 27 years old, he took over the heavy responsibility of manager. On the field, it was now "'C Breitnigge', Paul Breitner and Karl-Heinz Rummenigge, who ruled the roost.
Bayern Munich success in the 1980s
The eighties began with league titles in 1980 and 1981 and cup success in 1982. But in the European Cup final against Aston Villa in the same year they lost 1-0.
This generation was a fabulous time in club history. From 1965 to 1981 members of the Bayern team won the title of Best German player 11 times: Beckenbauer (4), Maier (3), Muller (2), Rummenigge and Breitner.
After another cup triumph in 1984 they racked up five league successes in six seasons, among them a double in 1986. But the international titles were conspicuous by their absence. The European Cup Final in 1987 saw defeat against Porto, losing 2-1 although Bayern had been in charge for most of the match.
The nineties started with a league championship, but then things went flat. It was only when the "Kaiser Franz" returned that there was a turning point. As a coach, he secured the league title in 1994 and was made Bayern's president the same year.
In a brief appearance as a coach in 1996 he led the club to victory in the UEFA Cup. Bordeaux were beaten 2-0 at home and 3-1 away in the final. Mehmet Scholl scored in both matches and Juergen Klinsmann netted the final goal in the away leg.
The Bundesliga title in 1997 and cup in 1998 were brought back to Munich with the popular Giovanni Trapattoni as coach. His successor Ottmar Hitzfeld steered the club to their 15th league title but he was also forced to endure the disappointment of the Champions League final against Manchester United in 1999.
After an early goal by Mario Basler, Bayern held the upper hand for 85 minutes. But in injury time, goals from Sheringham and Solskjaer snatched the trophy from the hands of the inconsolable Bayern players. Bayern, however, recovered and celebrated their centenary with a triple: Bundesliga, Cup and League Cup, thanks to this year's German player named Oliver Kahn.
Bayern Munich win Champions League
The following year was also victorious. In the last second of the final match Patrik Andersson's goal saw off HSV Hamburg. Thus he also silenced Schalke supporters who for four minutes had been celebrating thinking they had won the league championship – only for it to go up in smoke. It was actually Patrik Andersson's only goal in a Bayern shirt …
A few days later it was time for the final of the Champions League. The match was played in Milan and Valencia were the opponents, the second year in a row they had made it to the final. Both goals in normal time came from penalties, 1-1. After a goalless extra period, it was time for more penalty kicks.
Effenberg and Mendieta both scored spot kicks for the second time in the game. But otherwise the shoot-out efforts were shaky. Five of 12 penalties were missed and in the end, Bayern were victorious 5-4. Oliver Kahn was the hero thanks to his three saves.
Bayern won the Bundesliga in 2003 with a record margin of 16 points and also took the cup home: 3-1 against Kaiserslautern with Michael Ballack on target for the opponents.
Bayern Munich in 21st Century
Two new double triumphs followed in 2005 and 2006, now with Felig Magath at the helm. And in 2008 the old faithful Ottmar Hitzfeld rounded off an outstanding career with yet another double. Bayern led the Bundesliga from the first round of games and stayed there for the season.
Under Louis van Gaal's strict regime Bayern once again celebrated twice in 2009/10: both league and cup, and a successful Champions League campaign took the team all the way to the final. On the way Ivica Olic and Arjen Robben saw off all opposition. But in Madrid, however, they found Inter, led by van Gaal's former assistant Mourinho, too difficult and lost 2-0.
Two years later, it was surely time for revenge. After knocking Real Madrid out in the semi-final, Bayern played Champions League final at home at the Allianz Arena. The opponents were Chelsea and when Thomas Mueller headed Bayern 1-0 up after 83 minutes, it seemed to be going their way. But five minutes later Didier Drogba levelled. After a goalless extra period the home side missed two of their penalty kicks. Once again a European final ended in great disappointment.
Bayern Munich win the treble
Die Roten came back with a vengeance. In 2012/13 the club won "The Treble", ie, the Bundesliga, DFB-Pokal and as icing on the cake also the Champions League. The final was played at Wembley and was an all German-affiar. A late goal by Arjen Robben saw Bayern Munich defeat Borussia Dortmund 2-1.
After this success, Jupp Heynckes left and the new coach was Pep Guardiola. Three league and two cup titles in three seasons would certainly be regarded as more than acceptable in most clubs but barely so in Bayern Munich. Three years without a single Champions League final stings.
To get to grips with this, Pep was replaced by Carlo Ancelotti. On his resume are two European Cups as a player and three Champions League titles as a manager. Bayern Munich fans are now eagerly awaiting a new European title.
BAYERN MUNICH FACTS
Udo Lattek was Bayern coach for two spells: 1970-1975 and 1983-1987. Under his leadership, the club celebrated great triumphs: six Bundesliga victories, three cup triumphs and their first European trophy.
Sepp Maier played a total of 473 appearances for Bayern. and 'the cat from Anzing' played in 422 games in a row making the performance even more remarkable …
Gerd Müller, Der Bomber, has an impressive record: 365 goals in 427 matches in the Bundesliga. He was league top scorer seven times and in season 1971/72 he netted 40 goals, a record that no-one has surpassed. In the national side, he was even more lethal: 68 goals in 62 games. However, it took the intervention of the Bavarian president in 1964 before the trainer Zlato "Tschik" Cajkovski would allow the newcomer nicknamed the "short, fat Müller" to play …
In the West German team that won the World Cup in 1974, six of the players were from Bayern: Maier, Beckenbauer, Schwarzenbeck, Breitner, Hoeness and Müller. The two German goals in the final against Holland were scored by Breitner (penalty) and Müller (who else …).
Lothar Matthäus, with 150 international appearances, is Germany's most capped player. He played 12 seasons for Bayern and won 10 titles with the club.
Klaus Augenthaler was captain of Bayern from 1984-1991. He also won 10 titles with the Reds. The most spectacular of his goals came on August 19, 1989. when he beat Eintracht Frankfurt's keeper Uli Stein with a shot from the halfway line. The goal was declared not only the best of the season but also of the decade …
The player who won the most titles for Bayern is Mehmet Scholl – a total of 20: Bundesliga (8), Cup (5), the League Cup (5) and the UEFA Cup and Champions League.
The No.12 jersey will never be worn by any player. This shirt number is reserved to honour and thank Bayern supporters.
Bayern club has more sections other than just football, including one for chess players and even one for the referees …
A motto for the club is "Mir san mir" (we are we are): self-esteem, confidence and tradition.
Book

your dream trip to Munich with Nickes.Com!