Travel Guide for Borussia Dortmund and Signal Iduna Park
Below you will find your perfect guide for going to Germany to watch Borussia Dortmund at Signal Iduna Park!
Headlines from the travel guide: Borussia Dortmund Honours
National League/ Bundesliga: 7 (last 2012)
DFB-Pokal: 3 (last 2012)
Champions League: 1 (1997)
Cup Winners Cup: 1 (1966)
Signal Iduna Park
Capacity: 81,359
Pitch: 105 x 68 m
Opening match: 2 april 1974 (Borussia Dortmund – Schalke 04 0-3)
BORUSSIA DORTMUND ADDRESS
Signal Iduna Park
Strobelallee 50
44139 Dortmund
Signal Iduna Park History
In the mid-sixties it was clear that BVB had outgrown their former venue Stadion Rote Erde. And when Dortmund replaced Cologne in 1971 as one of the venues for the 1974 World Cup their new plans took off.
The new stadium, Westfalenstadion, had a capacity of 54,000 spectators. World Cup finalists Holland played three games there. Bulgaria and Brazil were defeated while Sweden held out for a goalless draw.
At the 2006 World Cup Sweden played there again, drawing 0-0 with Trinidad & Tobago. When Germany lost their semi-final against Italy, 2-0 after extra time, it was the end of a run of 14 winning matches for Germany at the Westfalenstadion.
After several renovations, the stadium now has a capacity of just over 80,000 spectators for matches in the Bundesliga and more than 65,000 spectators for international matches.
The Südtribune has 25,000 standing places and is the largest terrace in Europe. On match days the Südtribune deserves its nickname "Die Gelbe Wand" (the yellow wall).
The Westfalenstadion was the venue for the UEFA Cup Final in 2001 between Liverpool and Deportivo Alaves. Liverpool decided the match with a 'golden goal' in the 117th minute – the ninth of the game. By then Alaves had only nine men left on the pitch. The Liverpool anthem You'll Never Walk Alone is also played when BVB play …
Because of the bombings in Istanbul, Galatasaray were forced to move their home match against Juventus in the Champions League's group stage in 2003 and the Westfalenstadion was a successful choice: there were around 60,000 Turkish supporters and the side won 2-0.
From December 2005 the stadium's official name has been Signal Iduna Park. SIGNAL IDUNA PARK DIRECTIONS
Subway:
On match days take line U45 to the stadium.
On other days take line U45 or U46 to Dortmund (about five minutes walk to the stadium) or U42 to the Theodor-Fliedner-Heim (about seven minutes walk).
You can travel free to and from the stadium via U-Bahn or bus with your match ticket.
SIGNAL IDUNA PARK BARS
At the top of the list is Strobel, found in the August-Lenz-Haus (Strobelallee 50) right next to the stadium. Besides the the obligatory curry-wurst it serves kale, pea soup and many other local specialities. In the summer this can all be enjoyed in an authentic beer garden found between the August-Lenz-Haus and the old stadium, Stadium Rote Erde.
Other options are Esquina Central (Kreuzstraße 69), Bürgermeister Lindemann (Lindemannstraße 12) or Barrock (Kreuzstraße 87).
Around Alte Markt in the city centre there are plenty of restaurants to choose from: Brinkhoff's No. 1 am Markt (Markt 6), Zum Alten Markt (Markt 3), Wenker Brauhaus (Betenstraße 1) and Der Thüringer (Markt 13).
SIGNAL IDUNA PARK STADIUM TOUR
Monday – Friday: 12:00 and 14:00
Saturday – Sunday: 10:40, 11:00, 12:00, 13:40 (in english), 14:00, 15:00, 15:40 and 17:00.
There are no tours on matchdays.
The tour takes about 90 minutes. Meet at the BORUSSEUM.
Admission (including BORUSSEUM)
€12.00 – adults
€8.00 – children, students and pensioners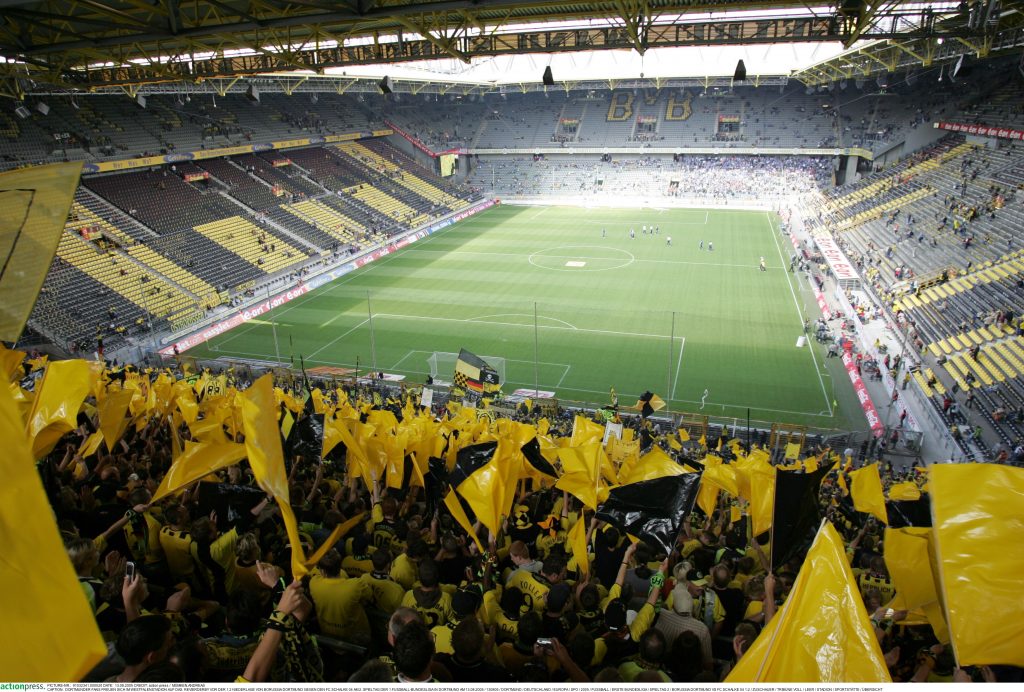 BORUSSIA DORTMUND MUSEUM
BORUSSEUM opened in 2008 and is found in the north east corner of the Signal Iduna Park. In addition to the usual trophies, balls and shirts the supporters' culture is also well represented.
Admission:
€ 6.00 – adults
€ 4.00 – children, students, unemployed and pensioners
Opening times:
Monday – Friday: 10.00 to 18.00 (last admission at 17.30).
Saturday – Sunday: 9.30 to 18.00 (last admission at 17.30).
On matchdays open until kick-off.
BORUSSIA DORTMUND STORES OPENING TIMES
BVB Fanshop Krone
Markt 10-14
44137 Dortmund
Monday – Friday: 10:00 – 19:00
Saturday: 10:00 – 18:00
BVB Fanshop Thier Galerie
Westenhellweg 102-106
44137 Dortmund
Monday – Thursday: 10:00 – 20:00
Friday – Saturday: 10:00 – 22:00
BVB Fanshop Megastore
Felicitasstraße 2
44263 Dortmund
Monday – Friday: 09:00 – 18:00
Saturday: 10:00 – 14:00
BVB Fanshop August-Lenz-Haus
Strobelallee 50
44139 Dortmund
Monday – Saturday: 10:00 – 18:00
BVB Fanshop Artrion
Rheinlanddamm 207-209
44137 Dortmund
Monday – Saturday: 08:30 – 17:00
BORUSSIA DORTMUND TRAINING GROUND
BVB's training facility has been at Dortmund-Brackel close to Dortmund Airport since May 10, 2006. There are several training pitches, two heated and including one with artificial turf.
BORUSSIA DORTMUND CLUB HISTORY
It was in the restaurant Zum Wildschütz that Borussia Dortmund were founded on December 19, 1909. The members of Trinity Church youth group who were interested in football had had enough of the chaplain Hupert Dewald's strict regime. Mr Jacobi, the new club spokesman, summarised the background: "Since 1906 we footballers have systematically had dirt thrown at us by our church, that we can no longer find ourselves in. "
But Father Dewald would not let go of his rebellious followers. He was stopped in the doorway of Zum Wildschütz at an organising meeting. In the turmoil the chaplain managed to persuade 20 of the assembled youths to leave the room. But thankfully for football history, 18 rebels stayed and Borussia Dortmund was born.
The fact that the club name was taken from the local brewery probably did not put Father Dewald in a better mood …
The club's first match was played over a year later, against VfB Dortmund on January 15, 1911 and they won 9-3.
It was 1913 before the club decided to play in yellow and black, the same year they played a curious local derby against VfB Dortmund. Borussia scored one goal and rejoiced at the victory. However a sharp-sighted opposition player decided to
measure the distance between the goalposts. It turned out that one goal was 22 cm wider and the outcome of the match was declared void.
The First World War played havoc with the young club. Half of Borussia's 18 founders were killed in the war.
Borussia Dortmund: the inter-war years
In the mid-twenties, Borussia turned their home into an arena with seating for 18,000 spectators: Borussia Sportsplatz. But bad business brought the club to the brink and bankruptcy. It was only thanks to a personal intervention by Heinz Schwaben, brewery manager and former chairman, that Borussia were saved.
During the thirties the Nazis took power, and also took control of football. The Borussia Chairman Egon Pentrup refused to accede to Hitler's party and he was deposed. Club stadium Borussia Sportplatz was seized and incorporated into Fritidsanläggningen Hoesch-Park.
A new league, Gauliga Westphalia was introduced in 1933 and in 1936 Borussia entered. In 1937/38 the club finished second behind Schalke 04.
A few days before World War II ended several of the club's membership were executed. Their crime was to have made anti-Nazi pamphlets at the Borussia office.
After the war ended all German organisations and institutions – even football clubs – were taken over by the Allied Occupying authorities. All remnants of the Nazi structure would be cleaned out.
Borussia Dortmund revenge on Schalke
For a short time Borussia reappeared in the guise of Borussia Sportgemeinschaft 1898. The year was taken from one of the two clubs Borussia had to merge with: Werksportgemeinschaft Hoesch and Freier Sportverein 98.
But soon enough the name was changed to Ballspiel-Verein Borussia (BVB), the current initials, now with the correct numbers, ie 09.
When the club won the championship in 1947 in Westphalia, it was a long-awaited revenge on Schalke 04. Their arch rivals from Gelsenkirchen were ten times league winners and 17-year-old Herbert Sandmann late goal saw wild celebrations despite pouring rain.
BVB played their first national major cup final in 1949. In front of 90,000 spectators in Stuttgart,they lost 3-2 to Mannheim.
It was 1956 before Borussia were able to win their first national title when in the final match they defeated Karlsruher FC 4-2. The hours before the match were, however, dramatic to say the least. With unusual bad timing the club management announced to striker Erich Schanko his contract would not be renewed. But the players' response was swift: "If Erich's contract is not extended we do not play." The club quickly changed its mind and Erich Schanko got his contract.
Borussia Dortmund defend title
The following year BVB defended the title with exactly the same squad. This time it was Hamburger SV who were on the receiving end of a 4-1 defeat. Borussia's big stars were 'Die Drei Alfredo' – Preißler, Kelbassa and Niepieklo. They scored seven of Borussia's eight goals in the two finals against Karlsruher FC and Hamburger SV.
Borussia qualified for the new Bundesliga after 1963 with flying colours having won their third national title. A total of 75,000 spectators in The Neckar Stadion in Stuttgart saw the black and yellows grab a convincing 3-1 victory against 1. FC Koln. Captain Willi Burgsmüller and Helmut 'Jockel' Bracht had also been in the champions side in 1956 and 1957.
Barely a month later BVB player Friedhelm 'Timo' Konietzka wrote himself into football history books when in the first minute of the first Bundesliga match against Werder Bremen, he scored the first goal.
Borussia's biggest scalp this season was undoubtedly Benfica. The Portuguese had played three straight European Cup finals and won two of them but against BVB than run was halted with a vengeance. After losing 2-1 in Lisbon, Borussia took revenge at home, winning 5-0.
Borussia Dortmund first cup
Borussia's first cup came in 1965, when they defeated Alemannia Aachen 2-0. The following year the club won its – and Germany's – first international trophy. In the Cup Winners' Cup final they took on Bill Shankly's Liverpool. The match was played at Hampden Park in Glasgow and went to extra time. Reinhard Libuda scored the winner in the 109th minute, making it 2-1, and the team was welcomed home by hundreds of thousands of supporters.
However there was less to rejoice in the next few years. They were relegated from the Bundesliga in 1972 and the economic problems were great. With Otto Rehhagel as coach the club returned to the top flight in 1976. But in 1986 they were close to going down again. It took a third and decisive game against Fortuna Koln in the relegation play-offs to secure safety – in this difficult moment Borussia pulled together and won 8-0.
It wasn't until 1989 that Dortmund supporters filled the streets in celebration again. Starved of success for many years, in the cup final BVB defeated favourites Werder Bremen 4-1. The heroes received a warm welcome from nearly 300,000 people on their return from Berlin.
The nineties became a successful decade for the black and yellows and their supporters. Although there was the loss against Juventus in the UEFA Cup final in 1993 (3-1 at home, 3-0 away) BVB was once again a club to be reckoned with in Europe. Ottmar Hitzfeld had taken over as coach the year before and now big things were happening.
Borussia Dortmund win Champions League
Borussia won the Bundesliga title in 1995 and defended the title the next year with a lead over runners-up Bayern Munich by six points. Matthias Sammer won the Golden Ball as best player in Europe. He was also named best player in Euro 1996 which was won by Germany.
The jewel in the crown came in 1997. In the Champions League semi finals they defeated Manchester United 1-0 at home and away. The final was played in Munich and the opponents were Juventus. Karl-Heinz Riedle scored two goals for BVB in the first half. After half-time Juve's Del Piero pulled one back. But Borussia made a successful substitution and the 20-year-old Lars Ricken settled the match with his first touch of the ball having been on the pitch for 16 seconds. To top it off, they won the Intercontinental Cup 2-0 against Brazilian Cruzeiro.
Borussia's next Bundesliga title was won in 2002, now with Matthias Sammer as coach. But it was close. With a quarter of the game left to play in the season's last match, it was a hungry sub who saved the show: Brazilian Ewerthon needed only 49 seconds on the pitch to save the season.
Just four days later BVB played in the UEFA Cup final against Feyenoord. The match was played at the Dutch club's home arena, and the job was not exactly made easier when Borussia were forced to play an hour of the match one down. In his last ever game Jurgen Kohler was sent off after half an hour. The black and yellows fought bravely but lost 3-2.
Young Borussia Dortmund side win Bundesliga twice
In 2010/11 BVB won the league with the youngest side in Bundesliga history. The next year they took the league title and in the cup final they outclassed Bayern Munich 5-2. After a little over a hundred years the club took home its first "Double".
Borussia played their second Champions League final in 2013. Archrivals Bayern Munich were the opponents and a late goal by Arjen Robben (1-2) ruined the party for BVB at Wembley.
Jürgen Klopp's dynamic coaching style and his 'heavy metal football' intensive pressing game had taken BVB to new heights. But after 2014/15 he handed over the responsibility of Thomas Tuchel who, like Klopp, came from FSV Mainz 05.
Borussia dortmund FACTS
Goalkeeper Heinrich Kwiatkowski was the first player from the BVB to participate in a World Cup finals. His only match in World Cup 1954 was no great success: they lost 8-3 to Hungary. When the same teams met in the final two weeks later, Germany had changed its goalkeeper. The Germans scored three goals again but only conceded two to win the World Cup.
Another Borussia goalkeeper, Hans Tilkowski played in the 1966 World Cup final. From his position, he was convinced that England's controversial third goal should not have stood..
Sixty-five years after Father Dewald's unsuccessful attempt to stop the formation of BVB, Borussia played Trinity Church on May 26, 1975 in a friendly match in the Hoeschpark.
The hottest rivalry is between BVB and Schalke 04 in the so-called Revierderby. The first match was played in 1925 and it was not until November 14, 1943 that Borussia won for the first time, the only goal of the game scored by August Lenz.
Book

your dream trip to Dortmund with Nickes.Com!